STEPANAKERT (RFE/RL) — President Serzh Sarkisian flew to Nagorno-Karabakh on Monday more than two weeks after the outbreak of heavy fighting around the territory that nearly escalated into a full-scale Armenian-Azerbaijani war.
The Armenian presidential press office released photographs of a uniform-clad Sarkisian arriving at the Stepanakert airport by helicopter and being greeted there by Bako Sahakian, the Karabakh president, and Armenia's Defense Minister Seyran Ohanian.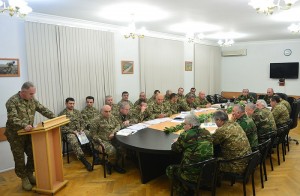 A statement by the office said that Sarkisian and Sahakian met with the Karabakh Armenian army's top brass later in the day. "A broad range of issues related to army building was discussed," it added without elaborating.
The trip is clearly connected with the April 2 escalation of the Karabakh conflict sparked by an Azerbaijani offensive at two sections of the "line of contact" around Karabakh. At least 100 soldiers from both sides died in the ensuing fierce clashes stopped by a Russian-mediated ceasefire on April 5. The ceasefire is largely holding despite sporadic gunfire reported by both warring sides.
Sarkisian held an emergency session of Armenia's National Security Council just hours after the outbreak of what was the worst fighting in the conflict zone since 1994. He said Armenia will bolster Karabakh's security through a "treaty on mutual military assistance" that will be signed with the unrecognized republic soon.