YEREVAN (Mediamax) — Reconstruction of Tatev monastery complex kicked off as part of Tatev Revival Project. The reconstruction of the northern entrance of the complex has started since December.
"It was decided to start with the northern entrance which was important in terms of both not hindering tourists' visits and organizing the reconstruction of the complex correctly. It's the gate which has been historically significant. Through this gate the whole splendor of Saint Poghos-Petros Church is seen and it overlooks a very beautiful scenery. During the works, the fencing of the entrance will be reinforced and the original exterior design will be restored", noted Edgar Manukyan, head of Initiatives for Development of Armenia (IDeA) Foundation which is implementing the project.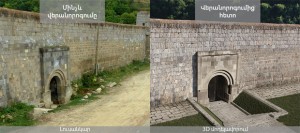 Before the start of the construction, specialized organizations carried out a number of researches including studies of geophysicial, geological and seismic condition of the area, engineering examination of the buildings and laser scanning.
Bibliographic and archive documents related to the Tatev monastery complex have also been studied to carry out the reconstruction works in line with the historical facade and development of the complex. To protect the foundation of the monastery complex against underground waters and moisture, a new drainage system has been built.
"After the northern entrance, the other premises of the complex- Saint Astvatsatsin Church as well the Pendulous Column and Belfry -will be reconstructed", said Tatev Revival Project Manager Hayk Tutunjyan.
Within Tatev monastery complex reconstruction project, IDeA Foundation cooperates with the Architectural Council of the Mother See of Holy Echmiadzin and Armenian Ministry of Culture.
As part of Tatev Revival Project, all the premises of the monastery complex- the churches and auxiliary buildings- are going to be reconstructed and repaired.