BURBANK — The Zorayan Museum Committee of the Western Diocese of the Armenian Church are presenting a special art exhibition featuring the paintings of world renowned artist
Richard Tashjian. The art exhibition of his works will be held on Tuesday, October 27 at 7:00 p.m. in the Zorayan Museum, located in the Western Diocesan Complex of the Armenian Church of North America, 3325 North Glenoaks Boulevard in Burbank, CA.
His Eminence Archbishop Hovnan Derderian, Primate of the Western Diocese, reports that this exhibition of the paintings of Richard Tashjian is in keeping with the mission of the Zorayan Museum to organize exhibitions to promote understanding and appreciation of Armenian ethnic, religious and cultural diversity by exposing the beauty of our heritage, and preserving and sharing the experiences with the people of the world.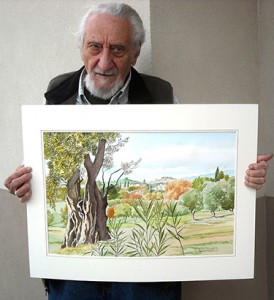 Richard Tashjian was born in Chelsea, MA in 1926; he served in the US Naval Reserve, World War II, l944-48 as a photographer, and later graduated from the Museum School of Fine Arts in Boston in 1950. Tashjian studied design under Prof. Gyorgy Kepes at MIT School of Visual Design Architectural Center, Cambridge, MA. His talents resulted in a successful career in advertising art, where he worked as a commercial artist and Art Director for various distinguished ad agencies throughout the Boston area. For several years he owned and operated an art studio and gallery in Watertown, MA.
Tashjian is the recipient of many awards including Stone and Webster Arts Festival in Boston, MA in 1978; First Prize Watercolor Medium and First Prize Graphic Prints in 1979; Visiting Artist Honored Medal 1990 at the 100th Anniversary of Hovaness Aivosofski, July 22, 1990,Theodosa Crimea Russia. His paintings have been in many selected exhibitions in numerous museums and galleries in Massachusetts, New York, New Mexico and Yerevan.
This exhibition coincides with a special event presented by the Zvartnots Cultural Committee of the Western Diocese dedicated to Gomidas Vartabed which will be held at 7:00 p.m. the same evening in the St. Leon Cathedral . Haik Madoyan will be presenting his life and Henrik Anassian will be presenting the composer and musical program. Attendees will then attend the exhibition in the Zorayan Museum.
The exhibition is open to the public and admission is free. For further information contact Zorayan Museum at the Western Diocese Office: (818) 558-7474.