STEPANAKERT — On 18 September Artsakh Republic President Bako Sahakian attended the opening of sculptor Toros Rasguélénian's "Eternity" monument and a solemn ceremony of groundbreaking the "Paul Éluard's home" Francophone center held in the French park of capital Stepanakert.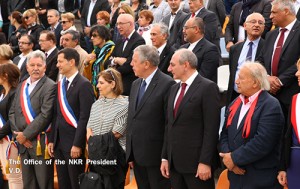 In his speech President Sahakian noted that Artsakh-France friendship stepped into a new phase stressing that deepening friendly relations with France was among the most significant directions of Artsakh's foreign policy. "In the face of France we have a strong and civilized friendly country with which we are connected by multiple channels. I am optimistic about the future of our bilateral relations as I see sincere aspiration and perseverance to develop our fraternal relations," he noted.
NKR National Assembly chairman Ashot Ghoulyan, a group of parliamentarians and officials from France, guests from abroad and the Diaspora, other officials partook in the event.