SAN LAZZARO – In this symbolic year 2015, on the occasion of the 100th commemoration of the Armenian Genocide, the Ministry of Culture of the Republic of Armenia has dedicated its pavilion to the artists of the Armenian diaspora. It will be located at the Mekhitarist Monastery on the island of San Lazzaro degli Armeni. Curated by Adelina Cüberyan v. Fürstenberg, the Opening is on May 6, 2015.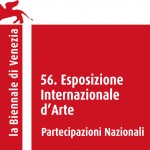 The curatorial concept of armenity** implies the notion of displacement and territory, justice and reconciliation, ethos and resilience. Regardless of their place of birth, the selected artists carry within their identity the memory of their origins. Through their talent and willpower, these grandchildren of survivors of the Armenian Genocide – the first genocide of the 20th century – rebuilt a "transnational assembly" from the remnants of a shattered identity. Their ingrained concern for memory, justice and reconciliation skillfully transcends notions of territory, borders and geography. Whether they were born in Beirut, Lyon, Los Angeles, or Cairo and wherever they may reside, these global citizens constantly question and reinvent their armenity.
Contemporary artists from the Armenian Diaspora invited to participate include: Haig Aivazian, Lebanon; Nigol Bezjian, Syria/USA; Ann a Boghiguian Egypt/Canada; Hera Büyüktasçiyan, Turkey; Silvina Der-Meguerditchian, Argentina/Germany; Rene Gabri & Ayreen Anastas, Iran/Palestine/USA; Mekhitar Garabedian, Belgium; Aikaterini Gegisian, Greece; Yervant Gianikian & Angela Ricci Lucchi, Italy; Aram Jibilian, USA; Nina Katchadourian, USA/Finland; Melik Ohanian, France; Mikayel Ohanjanyan, Armenia/Italy; Rosana Palazyan, Brasil; Sarkis , Turkey/France; Hrair Sarkissian, Syria/UK.