NEW YORK — Five writers of Armenian descent were honored at the Anahid Literary Awards ceremony in an event hosted by the Armenian Center at Columbia University and held on Friday, April 4, 2014 at Faculty House in New York.
Welcoming remarks were made by master of ceremonies Peter Balakian, Rebar Professor of Humanities, Colgate University, who touched on the significance of the Anahid Literary Prize, which was established 25 years ago by an anonymous donor who valued the literary tradition in relation to the continuity of Armenian culture and history.
"[The donor] must have had a sense that Armenian-American culture in the 20th century was a force of revitalization after the catastrophic events of genocide, dispersion, exile, and resettlement," said Balakian, Chair of the Anahid Award Committee and the award-winning author of many books, including his memoir Black Dog of Fate.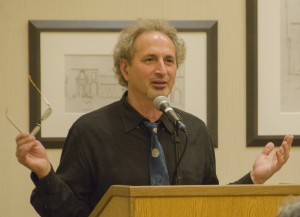 He spoke about novels by Armenian-American writers during the mid-century, as well as a new generation of Armenian-American writers who emerged after World War II, including novelist Laura Kalpakian, who was the first writer to receive the Anahid Award.
"The Anahid Award continues to be an occasion for the Armenian community to be self-aware, to take note of the works of literature that are being written now, to ingest those works, and to make them part of a culture's vitality and legacy," said Balakian.
This year's recipients, including Aris Janigian, Arthur Nersesian, Patricia Sarrafian Ward, Lydia Peelle (in absentia) and Michael Zadoorian, were introduced by Balakian and author Nancy Kricorian, both of whom are prior recipients of the Anahid Literary Award. Each of the authors, who are writers of novels or short fiction, read selections of their works, including The Bullet Collection, by Sarrafian Ward, who was born and raised in Beirut and is of American-Armenian-Danish heritage; Nersesian, a native New Yorker who is the author of nine novels, including The Swing Voter of Staten Island, Suicide Casanova, Manhattan, and the cult-classic The Fuck-Up; Janigian, who was born in Fresno, California and is the author of two novels Bloodvine and Riverbig and co-author of Something From Nothing; and Zadoorian, born in Detroit, Michigan and is the author of Second Hand and The Lost Tiki Palaces of Detroit. Balakian read excerpts from Lydia Peelle's Mule Killers and Reasons for and Advantages of Breathing.
A reception and book-signing followed, where guests had the opportunity to meet with the prize-winners.
"The Armenian Center is very proud to host the winners of the Anahid Literary Award," said Mark Momjian, Esq. (CC'83, L '86), Chair of the Armenian Center at Columbia University. "Columbia University is a place that celebrates poetry and literature, and the list of Columbia alumni is quite remarkable—Garcia Lorca, Welty, Kerouac, Ginsberg, Wouk, as well as two Columbians who served as U.S. Poet Laureate (Louise Gluck and the late Anthony Hecht). The Armenian Center is honored to play a role in recognizing writers of Armenian ancestry who build on this tradition."
Fatured Photo: Past winners authors Peter Balakian and Nancy Kricorian with the 2014 Anahid Literary Award recipients (from left: Peter Balakian, Patricia Sarrafian Ward, Arthur Nersesian, Nancy Kricorian, Michael Zadoorian and Aris Janigian; Lydia Peelle in absentia)
Photo credit: Dr. Robert V. Kinoian