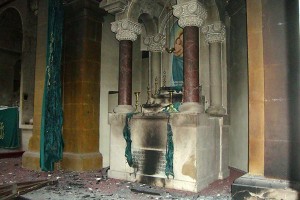 Seven ethnic Armenians have been kidnapped near the war-stricken Syrian city of Aleppo, local Armenian sources and the Foreign Ministry in Yerevan said on Tuesday.
A spokesman for a Syrian diocese of the Armenian Apostolic Church, Zhirayr Reisian, told RFE/RL's Armenian service (Azatutyun.am) that they as well as three other individuals were stopped and forced off a bus on their way from Lebanon's capital Beirut to Aleppo on Monday.
Armenia's Foreign Ministry identified five of those Armenians as Garo Pampalian, Arsen Aroian, Levon Zeitunian, Bashar and George Rabat and said it is trying to clarify the others' names. The ministry said their whereabouts remain unknown.
The kidnapping was most probably the work of Syrian rebel groups fighting forces loyal to the beleaguered President Bashar al-Assad.
The incident was reported two days after Sourp Kevork (Saint George) Armenian Apostolic church in Aleppo was seriously damaged by fire. Their was no indication that the church was speciffically targeted.
The Sourp Kevork church is located in the district of Nor Kyugh, scene of continuing fighting between the Syrian army and rebels. The Mesrobian Armenian school adjacent to the church has been seriously damaged, too.
Earlier on Monday a blast near an Armenian district of Syrian capital Damascus reportedly killed 10 people and wounded around 50. The Jaramana district blast has killed two Armenians—Rana Salhap Kaladjian and Rana Nanouf Mehmedjian. An Armenian, by the name of Anoush Apovian, was injured, but, after being administered first aid, she was discharged from hospital.