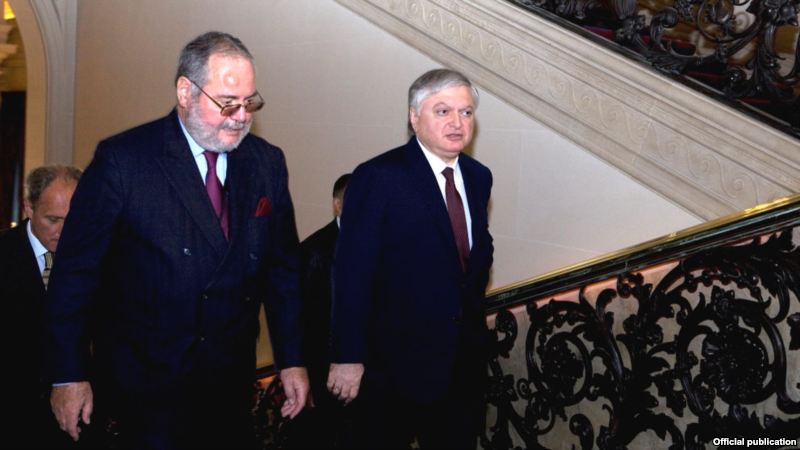 PARIS/MOSCOW/BRUSSELS — International mediators from the Organization for Security and Cooperation in Europe said on Monday that Azerbaijan's decision to pardon Ramil Safarov had damaged the peace process in the region.
Safarov was given a hero's welcome in Azerbaijan, where thousands of people took to the streets to greet him in his native city, Sumgait. The government promoted him to the rank of major and paid his salary for the eight years he was in custody.
The international mediators, including representatives of the United States, Russia and France, met with the foreign ministers of Armenia and Azerbaijan after the pardon threatened to inflame tensions.
The mediators "expressed their deep concern and regret for the damage the pardon and any attempts to glorify the crime have done to the peace process and trust between the sides," the group said in a statement.
Russia Deplores
Russia deplored on Monday a pardon granted by Azerbaijan's President Ilham Aliyev to Azerbaijani army officer Ramil Safarov, saying that it will complicate a peaceful resolution of the Nagorno-Karabakh conflict.
Unlike the United States and the European Union, Moscow also explicitly slammed Hungary for extraditing the convicted murderer.
"We believe that these actions by the Azerbaijani as well as Hungarian authorities run counter to efforts agreed upon at the international level and within the OSCE Minsk Group framework in the first instance and aimed at reducing tension in the region," Russian Foreign Ministry spokesman Aleksandr Lukashevich said in a statement.
Nikolay Bordyuzha, secretary general of the Collective Security Treaty Organization (CSTO), a Russian-led military alliance of six ex-Soviet states, denounced Safarov's release from prison in stronger terms. He said the move "runs counter to the norms of international law and calls into question the viability of the inter-state system of countering crime."
"Nothing can justify this step taken for parochial political purposes," Bordyuzha said in a statement. "Moreover, turning the criminal into a hero will only help to heighten the already high tension in the region."
European Union Criticizes Azerbaijan
The European Union on Monday criticized Azerbaijan for freeing Safarov. "We are concerned by the news that the president of Azerbaijan pardoned Azerbaijani army officer Ramil Safarov who was convicted and sentenced to life imprisonment for the murder of an Armenian army officer in 2004," Maja Kocijancic, a spokeswoman for EU foreign policy chief Catherine Ashton told a news briefing in Brussels.
"We are closely following the situation and are in contact with relevant sides to obtain more information," said Kocijancic. "We are particularly concerned with the possible impact that these developments might have on the wider region, and therefore we call on Azerbaijan and Armenia to exercise restraint on the ground and in public statements in order to prevent any kind of escalation of this situation."
The official stopped short of criticizing EU member state Hungary's decision to extradite Safarov to Azerbaijan, which has been strongly condemned by Armenia. She said only that the EU leaders in Brussels are now "in touch with the Hungarian authorities."
"This is an exchange of information. But of course this is an ongoing story, and it's possible that there will also be an exchange of information at the EU level," Kocijancic said. Brussels-based representatives of EU member states might discuss the matter at a meeting slated for Tuesday, she added.
Ashton's spokeswoman avoided commenting on Armenia's decision to suspend diplomatic relations with Hungary in response to what Yerevan sees as a secret deal on Safarov's extradition