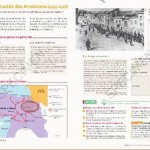 PARIS — The French Education Ministry has decided to include chapters about the Armenian genocide in history and geography books used in French secondary schools. French students studying world history since 1910 will also read a chapter called "The Armenian Genocide."
The chapter in the textbooks is devoted to giving detailed information on the Armenian genocide, which will explain in detail of the genocide, ethnic structure of the Ottoman Empire, rule of Talat Pasha and policies of nationalist Turks and purported exiles. The chapter will also include the numbers of Armenians who were killed, exiled or sent to death.
The author of the new textbook Valerie Perthue, suggested the pupils to draw a new glance to the history and examine a number of historical events, which are usual not included in European school curriculum. The authors also included French history controversial episodes, particularly the facts revealing cooperation established between French officials , Marshal Peten and Hitler in the course of Fascist Germany occupation. Algeria colonization by France as well as decolonization processes are widely discussed in the new textbooks.