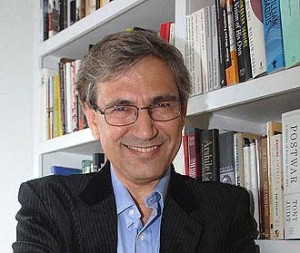 ISTANBUL — Yasin Hayal, one of the main instigators of the murder of Turkish-Armenian journalist Hrant Dink, said the masterminds behind the murder were planning to kill Nobel prize-winning novelist Orhan Pamuk after Dink, Today's Zaman reports.
Dink was shot dead outside the offices of the Agos newspaper in Istanbul in January 2007. Police arrested the gunman, Ogün Samast, and his associate, Hayal.
When he was detained and taken to court in 2007, Hayal had threatened, "Orhan Pamuk should be careful."
Hayal elaborated on these statements five years later from his prison cell in Tekirdag. He said Erhan Tuncel, who worked as an informant for the Trabzon Police Department and was arrested after the murder of Dink but subsequently released, told him: "Hrant Dink and Orhan Pamuk are dangerous to this nation. They should be killed. But Dink has priority."
In January, Samast was sentenced to 22 years, 10 months in prison while Hayal was given life imprisonment for inciting Samast to murder. Tuncel was found not guilty of murdering Dink.
Hayal said he made the threatening statement against Pamuk due to Tuncel's remarks.
Hayal said they shelved their plans to kill Pamuk when the Dink murder caused an outrage in the country and international community.
He also said he regrets having made those statements about Pamuk, which he said were a result of ignorance. "They [those remarks] were due to youth and ignorance. If I happen to get out of this place one day, I will visit him [Pamuk] and kiss his hand [a show of respect in Turkish culture] and apologize to him. I am really regretful," he said.
Pamuk drew the ire of Turkish nationalist circles when he said during an interview with Swiss newspaper Tages Anzeiger in 2005 that "30,000 Kurds and a million Armenians were killed" in Turkey. Turkey denies that Armenians were systematically killed between 1915 and 1923, saying both sides suffered losses in internecine fighting during the breakup of the Ottoman Empire.