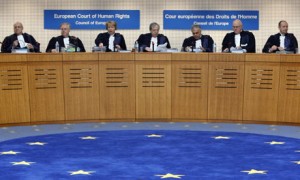 YEREVAN — The European Court of Human Rights has ordered the Armenian government to pay 2,500 euros ($3,000) in compensatory damages to a prominent lawyer more than six years after he was arrested on highly controversial charges.
The human rights lawyer, Vahe Grigorian, on Tuesday described the ruling as a "slap in the face of Armenia's law-enforcement system" and said he will now step up his efforts to be formally cleared of wrongdoing.
Grigorian was arrested in October 2005, charged with fraud and forgery and kept in pre-trial detention for almost five months after helping several families in Yerevan to file lawsuits with the European Court. The clients of his Right law firm were among hundreds of families evicted from their old houses as part of a massive redevelopment in the city center.
Many of them staged protests, saying that financial compensation offered to them was set well below the market value of their properties because of government corruption. The authorities denied the accusations and insisted that most displaced families are satisfied with the sums paid by the state. The redevelopment overseen by then President Robert Kocharian went ahead even after it was effectively declared illegal by Armenia's Constitutional Court in 2006.
Grigorian has insisted, both then and now, that his arrest was government retribution for his cooperation with some of the evicted people. Armenia's National Security Service (NSS), which brought the fraud charges, has denied that. The NSS freed the lawyer in February 2006 but has still not closed the criminal case on the grounds that two individuals who had testified against the lawyer fled the country and remain on the run.
In its verdict announced late last week, the Strasbourg court ruled that this legal limbo constitutes a violation of Grigorian's right to fair trial guaranteed by the European Convention on Human Rights. It said he must therefore be compensated for the excessive delay.
"This is a good way to keep undesirable people under constant pressure," Grigorian told RFE/RL's Armenian service (Azatutyun.am), referring to the NSS's stance. The lawyer, who has also represented dozens of Armenian opposition members prosecuted since 2008, said he will now petition law-enforcement authorities to send the case to court or drop it altogether.
Grigorian said earlier that at least 20 Yerevan families have taken the government to the European Court after exhausting all possibilities of legal action in Armenia. The court has ordered the government to compensate at least three of them.