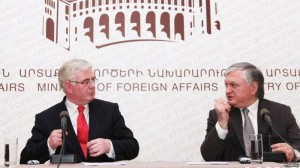 YEREVAN — The OSCE Chairperson-in-Office, Ireland's Deputy Prime Minister and Foreign Minister Eamon Gilmore, on Tuesday urged the parties to the Nagorno-Karabakh conflict to withdraw snipers from the "line of contact" and jointly investigate ceasefire violations there.
Gilmore made the appeal in Yerevan after talks with his Armenian counterpart Edward Nalbandian. The Karabakh dispute and, in particular, last week's deadly fighting in the conflict zone were high on their agenda.
"I strongly condemn the recent violent incidents. This conflict will not be resolved by the use of force. The cycle of violence must stop," stated Gilmore. "This is the same message I will deliver in Azerbaijan on Thursday. The time has come to build trust; this requires will and commitment on the part of all those involved to seek peace."
"After the latest reports of serious escalation and armed incidents the sides need to take positive steps," Gilmore told a joint news conference with Nalbandian. He expressed hope that the Armenian and Azerbaijani foreign ministers will make progress towards agreeing on a mechanism for joint investigation of truce violations when they meet in Paris next week.
"We in Ireland know all too well the devastating cost of conflict. And we know how hard it is to resolve such situations," he said recalling the Northern Ireland peace process. "From our experience it is essential to have a clear and determined policy not to yield to violence or the temptation to retaliate. Courage, perseverance and meaningful engagement are called for."
On the weekend the European Union added its voice to international concerns about the latest upsurge in fighting along the Armenian-Azerbaijani border and around Nagorno-Karabakh and urged the conflicting parties to respect ceasefire.
"The High Representative calls on both sides strictly to respect the ceasefire and exercise restraint on the ground and in public statements in order to prevent a further escalation of the situation, which has been deteriorating during the last several months," a spokesperson for EU foreign policy chief Catherine Ashton said in a weekend statement.
"Threat or use of force as well as the status quo do not contribute to a resolution of the persisting conflict," said the statement.