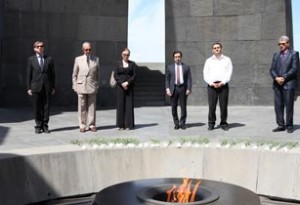 YEREVAN — French Senators Sophie Joissains, Philippe Marini and Bernard Fournier, who were on a two-days visit to Armenia, visited on Saturday the Tsitsernakaberd Memorial Complex and honored the memory of the Armenian Genocide victims.
The Senators also attended the Armenian Genocide Museum-Institute, parliament press service informs Armenian News-NEWS.am.
"I saw sorrow, loss and massacre, which documents testify. There are people, who still deny the genocide, which brought forth the World War II," Senator Marini wrote.
Condemning the 1915 genocide organizers, the Senator claimed that there are no contradictions between French political powers on criminalizing denial of the Armenian Genocide adding that newly elected President Francois Hollande also will be consistent in passing the bill.
"We are members of the Union for Popular Movement (UMP) supporting former President Nikolas Sarkozy and learned with interest about Hollande's intentions. We will be very glad if a consensus is established on the issue in France," Senator Bernard Fournier said.