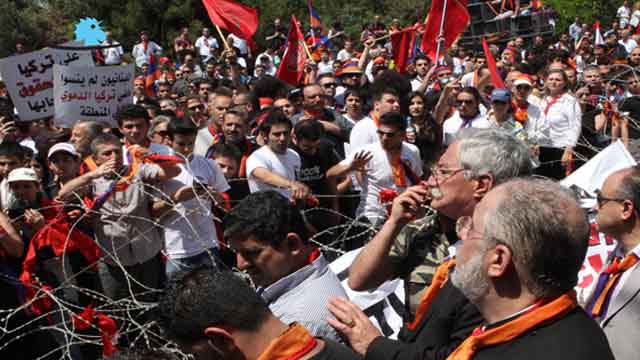 BEIRUT (from dailystar.com.lb abbreviated) — Nearly 25,000 Lebanese-Armenians marched to the Turkish Embassy in Metn's Rabieh (east of Beirut) Tuesday, calling on Ankara to recognize the Armenian Genocide committed by the Ottoman Army at the height of World War I.
The large turnout prompted the Turkish Embassy to request an increase in security outside the embassy, according to an Internal Security Forces source who spoke on condition of anonymity.
Interior Ministry officials estimated that 20,000 to 25,000 people took part in the march, which began at the Armenian Catholicosate of Cilicia in Antelias.
Once they were meters away from the Turkish Embassy's gates, protesters began to burn Turkish flags, and chant anti-Turkish slogans. "We fight for justice, and we demand it from the fascist Turkish regime," read one of the banners raised at the barbed wire separating some 200 riot police from the crowd.
Many protesters at Rabieh Tuesday told The Daily Star they believed the Turkish government refuses to recognize the genocide in order to avoid both apologizing and paying reparations to Armenians. The majority of young people at the march's front said they believe Turkey will ultimately recognize the events of 1915 as genocide, despite 97 years of denial.
After an hour in front of the embassy and efforts by MPs and officials to restrain angry crowds from entering, demonstrators headed back to Antelias.
Beirut MP Serge Torsarkissian of the March 14 coalition hailed the rally, which he participated in, calling it an opportunity to remind officials at the embassy and in the Turkish government that Armenians will not stop demanding justice.
"The embassy and the new Ottoman Empire should be aware that the rights of the Armenian people will not fade in time," he said.
His rival in Parliament, Metn MP Hagop Pakradounian of March 8 also marched, saying "this day proves that we will continue to demand justice until Turkey recognizes its guilt and gives reparations to Armenians around the world."
Politicians from across the political divide in the country expressed their solidarity with Lebanese-Armenians.