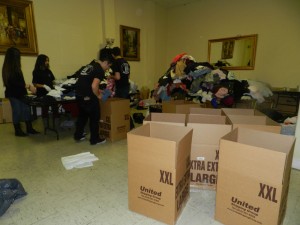 PASADENA, CA – Hundreds of participants dropped off bags of clothing for the Gaidz Youth Organization's annual Clothing Drive on Feb. 11 through Feb. 19 at the Armenian Educational Benevolent Union center (AEBU) in Pasadena. The event was marked with great success and an overwhelming level of support and donations from the community reaching out as far as San Diego.
The Clothing Drive benefits the less fortunate who have fallen victim to the dire economic situation in various regions in the Republic of Armenia. Specifically, the Clothing Drive is aimed at helping the sizable population of Armenian orphans who are in need of daily essentials, such as warm clothing during cold winter months.
"Working tirelessly for many days, organizing, sorting and packaging all the donations was a truly rewarding experience," said Alex Kojababian, GYO Chairman. "Knowing that a simple gesture of giving a child a coat or a pair of pants will make a significant difference in his or her daily life is what gives us the strength and motivation to continue our philanthropic efforts in helping the orphans in Armenia."
Over 100 bags of clothing were collected in the Clothing Drive and were promptly shipped directly to the orphanages in Armenia. "We hope to have many more events like this in the future," added Kojababian.