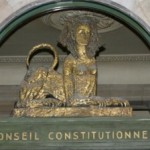 PARIS — France's top judicial body on Tuesday rejected as unconstitutional a French National Assembly bill backed by President Nicolas Sarkozy to punish denial of the Armenian genocide claiming that it infringed on freedom of expression.
The Constitutional Council ruled that the bill passed by both houses of the French parliament amounts to an "unconstitutional infringement of the exercise of freedom of expression and communication."
"It is legitimate for the Parliament to institute indictments on abuse of the exercise of freedom of expression and communication that violate public order and the rights of others. However, the infringement of the exercise of this freedom — which is a prerequisite for democracy and a guarantee of respect for other rights and freedoms — must be necessary, appropriate and proportionate to the aim pursued," the council said in a statement posted on its website.
The Turkish government, which has strongly condemned the bill and imposed sanctions on Paris as a result, was quick to hail the development. In a written statement cited by Turkish media, Foreign Minister Ahmet Davutoglu said the decision set an important precedent. Davutoglu also thanked the more than 140 French lawmakers who challenged the bill's legality at the Constitutional Council late last month.
Armenia's Foreign Minister Edward Nalbandian reaffirmed Yerevan's strong support for criminalizing Armenian genocide denial in an interview with the Austrian magazine "Der Standard" publicized earlier on Tuesday. He said the bill reflects "the view of all French people" and "can only be useful for the normalization of Turkish-Armenian relations."
While the Council's ruling is final, Sarkozy vowed on February 1 that he would submit a new draft of the law if the Constitutional Council rejected it.