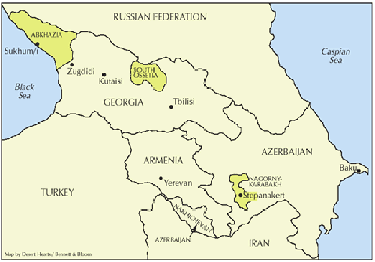 By Giorgi Lomsadze
Euresianet.org
It's gift-opening time here in the hung-over South Caucasus, and early reports indicate that Santa Claus left more sweets than switches in the stockings of all three of the region's countries.
Armenia's present came, of course, from France. Le Père Noël brought preliminary passage of a bill that bans the denial of Ottoman Turkey's 1915 massacre of ethnic Armenians as genocide. If the upper chamber of the French parliament approves the bill, France will become the first major country to pass such a law — an event eagerly awaited in Armenia, where memories of the 1915 massacre run strong and bitter.
Turkey, now barely on speaking terms with France, says that the massacre was — to paraphrase a Russian saying — too long ago to be true.
Azerbaijan, Ankara's longtime pal, shares Turkey's anger over this pro-Armenia move, but it also has reasons to celebrate. On December 26, it signed an agreement with Turkey on a $5 billion pipeline that will bring Azerbaijani gas to eager European customers, and even more cash to its cash-rich coffers.
But Santa also brought Baku the chance to show some policy panache with its energy pedigree. In 2012, Azerbaijan wakes up in the city that never sleeps as the new, non-permanent member of the United Nations Security Council, an historic first in the country's short history as an independent republic. Its New York run kicks off on January 4, when the Council settles down to talk sanctions against Iran and the turmoil in Syria, among other topics.
And Georgia also found a little something when it reached into its stocking. What can it be? Membership in the North Atlantic Treaty Organization? News that Russian Prime Minister Vladimir Putin was kidnapped by aliens? No, it's a US defense weapon.
On December 31, President Barack Obama signed a bill that allows the sale of much-wanted American weapons to Georgia. It is not yet clear what kind of toys Georgia can buy with this gift card, and Obama may have included a disclaimer "for defensive purposes only," but, for Tbilisi, it's the thought that counts.
2012 is shaping up as an interesting year, but, for now, longtime observers refrain from predicting whether the region's threesome will be naughty or nice.