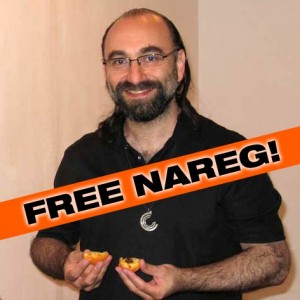 YEREVAN — U.S.-Armenian businessman Narek Hartunian, head of G. H. Storage Enterprise Company, and better known as founder of Narekatsi Art Union, has been taken into custody for two months on charges of tax evasion.
Attorneys say that Hartunian and the deputy director of his importing company and the accountant have been detained. Attorneys say that "this is an action of blackmail and hostage taking, which aims to extort money from Hartunian."
The investigators claim that GH Storage Enterprise, which is owned by Hartounian's extended family, has engaged in tax evasion since 2009. A Yerevan court promptly allowed them on Saturday to keep the three suspects under pre-trial arrest for up to two months.
Their lawyers dismissed the charges as baseless at a news conference on Monday. One of them, Gevorg Chakmishian, noted that the arrests came shortly after Hartounian challenged the SRC allegations at Armenia's Administrative Court.
"Nareg Hartounian has repeatedly stated that if the Administrative Court rules that the tax liabilities attributed to the company are legitimate and founded, he will pay those taxes in full," said Chakmishian. He said his client could not have deliberately resorted to tax fraud.
Hartunian, who has carried out a number of charitable programs, in 2002, founded Narekatsi Art Union in the United States, which has branches in Yerevan and Shushi, which have become popular and active cultural centers. Exhibitions, musical events, theatrical performances, film shows, book presentations, and vocational trainings for artists are held free of charge at the union.
Hartounian's sympathizers have set up a Facebook group demanding his immediate release. More than 1,400 people signed up to it by Monday evening.