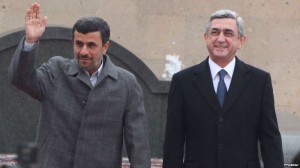 YEREVAN — The presidents of Armenia and Iran pledged on Friday to further expand "high-level relations" between their nations and, in particular, give new impetus to the implementation of joint energy projects that have fallen behind schedule.
Iranian President Mahmoud Ahmadinejad arrived in Yerevan on Friday for an official one-day visit during which he signed agreements strengthening energy and communication relations between Armenia and its southern neighbor.
Sarkisian and Ahmadinejad also called for a "diplomatic" solution to Iran's nuclear standoff with the West, saying after talks in Yerevan that it should uphold Tehran's right to the "peaceful use of atomic energy."
In a joint communiqué issued at the end of Ahmadinejad's one-day visit to Armenia, the two leaders said that they "reaffirmed their determination to further develop bilateral friendly and mutually beneficial relations."
"We have had very good negotiations with Mr. President," Ahmadinejad told Armenian and Iranian officials after a one-on-one conversation with his Armenian counterpart. "I said that nobody in the world can change the map between Armenia and Iran."
"Historically we have always had good relations and they are being preserved today," he said.
According to Sarkisian, they specifically agreed to speed up the ongoing construction of a third transmission line connecting the Armenian and Iranian power grids and accelerate other commercial projects.
Those include the construction of two hydroelectric plants on the Arax river marking the Armenian-Iranian border and a pipeline that will ship Iranian fuel to Armenia. Work on these facilities was due to start this year but has been delayed for unclear reasons.