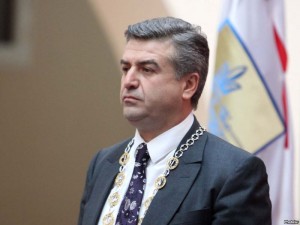 YEREVAN — Yerevan's Mayor Karen Karapetian confirmed on Friday reports that he has decided to resign after less than one year in office.
"I have tendered my resignation," Karapetian wrote on his Facebook page.
He attributed the unexpected decision to "personal reasons" and his "transfer to another work."
"I took the decision with great difficulty and am stating with all responsibility that there is no subtext of political or intra-governmental disagreements as is claimed by some," said Karapetian.
"At the same time I feel sorry for unfulfilled tasks and obligations as well as those expectations and programs which the country's supreme leadership and the public had in connection with my tenure," he added.
According to some newspaper reports, Karapetian, who previously managed Armenia's national gas distribution company, received a lucrative job offer from Gazprom or another Russian energy conglomerate.
In a separate interview with the Armnews TV channel, Karapetian confirmed that he is likely to work in Russia but did not elaborate.
Announcing the mayor's impending resignation on Thursday, the Armenian press also speculated that President Serzh Sarkisian is unhappy with Karapetian's controversial policies that have sparked angry demonstrations by street traders and kiosk owners in the capital.
Another theory suggested by commentators is that Sarkisian regards Karapetian as a potential backer of his predecessor Robert Kocharian who is allegedly keen to resume political activities and challenge the current president.
Karapetian insisted, however, that he has enjoyed "unlimited" support from the president throughout his short tenure. He also dismissed as "absurd" media claims about his uneasy rapport with the presidential administration.
Under Armenian law, Yerevan mayors are chosen by a municipal assembly elected through universal suffrage. Sarkisian's Republican Party of Armenia (HHK) holds the majority of seats in the Council of Elders.
Derenik Dumanian, the leader of the HHK faction in the council, claimed earlier on Friday to be unaware of the mayor's resignation plans.
"Under the law on Yerevan, if the mayor wants to step down he has to appeal to the Council of Elders and the council will then make a decision," Dumanian told RFE/RL's Armenian service (Azatutyun.am). "The faction and the council have received no official application to that effect as yet."
One of Karapetian's likely successors is Deputy Mayor Taron Markarian. His late father, Andranik Markarian, served as Armenia's prime minister from 2000-2008.