The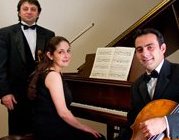 , an all Armenian group, will be performing a mostly Armenian program in a home in Tarzana on Sunday, 23 October 2011.
Winner of the Most Distinguished Musician Award 2005 IBLA International Competition in Italy, The Elixir Piano Trio, Lucy Nargizyan, piano; Samvel Chilingarian, violin and Garik Terzian, cello have appeared in performances in Europe and the United States. Founded in 2004, the dynamic Elixir Piano Trio performs both traditional and modern repertoire with classical, folk and jazz influences. Known for their unique and exciting interpretations, the Los Angeles based ensemble has dazzled audiences with their energy and sensitivity. The trio has become instrumental in promoting works by Contemporary composers. The Group is the Trio-In-Residence and on the faculty of the Beverly Hills International Music Festival.
The concert will be held at 19335 Lemmer Drive, Encino, CA 91356 in a lovely home.
Admission Donations: $40 Premium, $30 General, $20 Students
For more information on the concert contact: Ronna Binn Hersh at (818) 343-3095 or by e-mail at [email protected]
For the Elixir Piano Trio visit the trio's website: www.elixirpiano-trio.com