STEPANAKERT — Nagorno-Karabakh's armed forces have reported downing an unmanned Azerbaijani military aircraft that they say was on a reconnaissance mission inside the airspace of the Armenian republic.
The NKR Defense Army's information and propaganda department issued a statement on Wednesday that the incident happened two days ago in Karabakh's Martuni district and taking down the aircraft was due to special measures undertaken by anti-aircraft and radar units of the local defense army.
"Fragments of the destroyed aircraft are at the disposal of the Defense Army's relevant services," the statement said. "A commission has been set up to examine details of the incident and an investigation is underway."
"Simultaneously with ceasefire violations along the Armenian-Azerbaijani line of contact the recent period has also seen a marked activity of the enemy's air force," the NKR Defense Army said in the press release, stressing the increased frequency of flights of unmanned aircraft of Azerbaijan's air force along the entire perimeter of the line of contact, with some of them violating Karabakh's airspace. At the same time, it is stressed that Karabakh's anti-aircraft defense forces have taken corresponding steps to prevent such intrusions.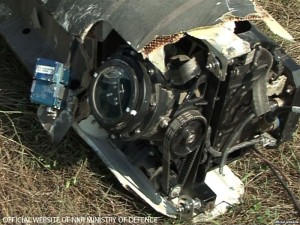 Azerbaijan is known to have UAVs, most of them reportedly purchased them from Israel. A joint venture set up by the Azerbaijani government and the Israel Aerospace Industries company began assembling Israeli-designed drones in Azerbaijan last March.
Armenia officially announced in June that it too is manufacturing UAVs. Colonel Armen Mkrtchian, deputy commander of the Armenian air force, said they are capable of "carrying out objectives deep inside enemy territory."
The drones apparently designed by Armenian engineers are expected to be put on display during a military parade in Yerevan scheduled for September 21.