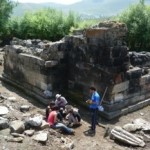 YEREVAN — This summer, Land and Culture Organization/Organisation Terre et Culture (LCO/OTC) volunteers headed off to two different campaign sites. One group of volunteers went to north to the Shirakamut village, near the epicenter of the 1988 earthquake, to work on the renovation of the historic 7th Century Tchitchkhanavank Monastery, and another group of volunteers went south to Yeghvard, on the border of the liberated territories of Artsakh, to finalize work on the 17th Century Sourp Astvatzatzin Church project. Throughout July and August, over 60 volunteers were in Shirakamut, Yeghvard, as well as in Goris.
OTC is participating in a joint venture project with the sister cities of Vienne, France and Goris, Armenia renovating the 18th Century Sourp Astvatzatzin Church near the pagan era caves in Old Goris. Non-Armenian and Armenian volunteers from the Vienne community and local youth from Goris have committed themselves to this project.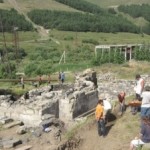 The volunteers from Armenia, Canada, England, France, Nagorno-Karabakh, Syria, and the United States were hard at work at these different sites clearing, digging, and excavating, including discovering several ancient artifacts and human remains at the Tchitchanavank site which were turned over to the archaeological experts for review. During the campaign, the villages become energized by the group and renovation project. Local children join in the work and villagers express their appreciation to LCO/OTC and the volunteers for their dedication to these projects for their community.
During off work hours, the group mingled with each other and locals, explored the countryside, and went on typical and atypical excursions throughout Armenia and Nagorno-Karabakh, including viewing prior completed LCO/OTC projects. This not only gives them a sense of Armenia and its history, but an appreciation and inspiration for the work they were engaged in. This unique, off the tourist path, experience gave volunteers an opportunity to live the rural Armenian life and participate in preserving our ancient heritage.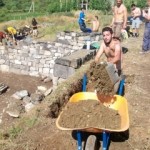 In its 34th year, LCO/OTC is committed to the mission of preserving ancient Armenian historical sites. All projects are overseen and coordinated with local Armenian archaeologists, historical architects, and experts to ensure that the renovation is conducted properly and restoring the site to its original design, including using as many of the remaining stones. Renovation projects take four to five years to complete.
For over 30 years, LCO has been one of the earliest volunteers groups in Armenia and Karabakh working to restore, renovate, and rejuvenate the historical monuments and sites of our nation. It has performed this mission through its summer campaigns, by volunteers of every age from the Diaspora and Armenia. To help our mission or join in our summer volunteer program, you may reach us at www.lcousa.org.