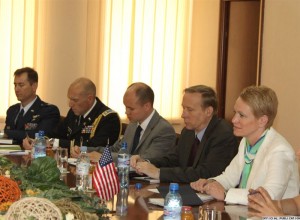 YEREVAN — A senior Pentagon official praised Armenia for contributing troops to the NATO-led missions in Afghanistan and Kosovo and broadening military ties with the United States during a visit to Yerevan on Monday.
Celeste Wallander, the U.S. deputy assistant secretary of defense for Russia, Ukraine and Eurasia Policy, also promised continued U.S. assistance to an ongoing reform of the Armenian military aimed bringing it into greater conformity with NATO standards.
Wallander met with Defense Minister Seyran Ohanian and Foreign Minister Edward Nalbandian to discuss what she described as an "extensive list" of issues on the agenda of U.S.-Armenian military cooperation. "I commented to the minister [Ohanian] that each time we meet we have more and more to discuss," she told a weekly television program produced by the Armenian Defense Ministry in an interview.
"President Obama has made very clear that the U.S. continues be committed to providing stability and security by supporting the development of the Afghan security forces," Wallander said. "So we are very grateful to the [Armenia] Ministry of Defense for making that commitment and contributing to that mission."
Armenia sent an additional 81 soldiers to Afghanistan a week ago, almost tripling its presence a NATO-led multinational force stationed there. Another 80 Armenian troops have been serving under NATO command in Kosovo.
"It is very important for people to remember that Armenians are also serving in Kosovo as part of the KFOR mission," said Wallander. "We tend to forget about it because it's so successful. But I think it's important for everyone to understand that the reason it is successful is because so many partners have been willing to be there and contribute to this postconflict situation."
The U.S. official added that the Pentagon will continue to support a special peacekeeping brigade of the Armenian Armed Forces that has provided military personnel for the Afghanistan and Kosovo missions as well as the U.S.-led occupation force in Iraq.
Armenia participation in international peacekeeping operation is envisaged by Yerevan's Individual Partnership Action Plan (IPAP) with NATO launched in 2005. The cooperation framework also commits the country, traditionally reliant on close military ties with Russia, to implementing wide-ranging defense reforms.
Official Armenian sources quoted Wallander as telling Ohanian and Nalbandian that Washington will keep supporting those reforms. They said she also discussed with the two ministers overall U.S. military assistance to Armenia, which is due to total $12 million this year.
"We have many things to talk about, we have many things to be working on in the coming year," Wallander said in her interview.