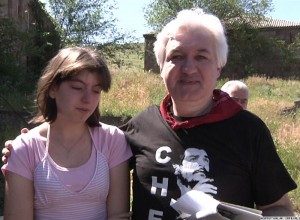 YEREVAN — Sarkis Hatspanian, an opposition activist and veteran of the Nagorno-Karabakh War, was released from Vardashen penitentiary this morning.
Hatspanian, a French citizen of Armenian descent, criticized the opposition Armenian National Congress (HAK) and claimed that he is facing deportation from Armenia after leaving the Vartashen prison in Yerevan.
Hatspanian was arrested in November 2008 after alleging, in an newspaper interview, a planned attempt on the life of President Serzh Sarkisian. He implicitly claimed that the murder plot was hatched by Sarkisian's predecessor, Robert Kocharian.
Hatspanian was later convicted of "false denunciation" and sentenced to three and a half years in prison. He and rejected the charge as politically motivated.
"My release is also Serzh Sarkisian's release because that person is held hostage by Robert Kocharian in connection with my case," he said.
A native of Turkey, Hatspanian moved to Armenia from France in 1990 and took part in the Karabakh liberation war.
Hatspanian exposed his disappointment with the HAK leadership as he was greeted outside the Vartashen prison by his wife, children and a handful of friends chanting "Sarkis!" Senior HAK representatives were conspicuously absent.
Asked to comment on the HAK-government dialogue, the oppositionist said, "Doesn't this [absence] say it all? It answers your question, doesn't it?"
"Both parties to the dialogue are not here right now," he told RFE/RL's Armenian service. "I wonder where those people are. Has any of them knocked on my apartment door and inquired about my kids in the last three years?
"I'm going to put these questions to those who are absent from this place now. They haven't bothered to say 'welcome back.' This shows the difference between their and my moral values."
Hatspanian also said that his chief objective now is to avoid deportation from the country, which was threatened by the authorities following the March 2008 unrest in Yerevan. "In the next few days Serzh Sarkisian will demonstrate whether he really wants Diaspora Armenians to live in Armenia," he said.