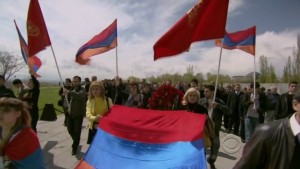 The following is an open letter to the U.S. Ambassador to Armenia Marie Yovanovich delivered by the Social Democrat Hunchakian Party's "Sargis Dkhrouni" Student-Youth Union prior to the 96th anniversary of the Armenian Genocide.
On April 24, people all over the world will commemorate the 96th anniversary of the Armenian Genocide planned and carried out by the Ottoman Turkish authorities in the 20th century; a most heinous crime whose victims number more than 1.5 million innocent people, killed for the sole reason that they are Armenians who lived in the land of their ancestors.
Moreover, ninety six years after this horrible crime, Turkey continues its anti-Armenian policy. It continues to keep its border with Armenia closed and displays a unilateral and unbalanced approach to the Artsakh issue, thus causing more threat to security and stability in the region.
The Armenian-Turkish process which began just two years ago, supported and "sponsored" by your country, failed due to the subsequent and overt hostile stance formally displayed by Ankara.
The Armenian Genocide which took place in the beginning of the last century, the war imposed on Artsakh in the early 1990s and the genocides in Baku and Sumgait are the logical continuation of the anti-Armenian policy that the Turks and Azeri have adopted with the desire to eliminate Armenians from this region in every possible way.
The silent indifference of your country toward these issues is not only an offense, but we also get the impression that the U.S. is using the greatest crime perpetrated against our people, that is, the Armenian Genocide, as a tool towards its own political issues. If not, how could you explain almost all U.S. presidents' pre-electoral pledges to recognize the Armenian Genocide and their silence and disavowal after the elections?
This year, U.S. President Barack Obama has the opportunity to prove that U.S. policy is not grounded on opportune pledges, but the principled on real partnerships and respect for facts and assurances.
Throughout the years, Armenians have stayed silent with the belief that the country that organized the Armenian Genocide would receive the punishment that it deserves, and justice will prevail. However, our generation, the new generation is not prepared to stay silent and make requests. We will stand up for our Just Cause and the Rights of our ancestors…"
"Sargis Dkhrouni" Student-Youth Union