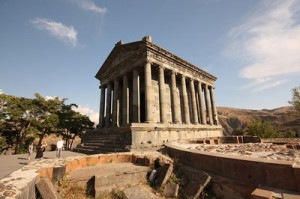 PARIS — UNESCO has decided that the Melina Mercouri International Prize for the Safeguarding and Management of Cultural Landscapes (UNESCO-Greece) will be shared by Armenia's "Garni Preserve-Museum" and the Batir site in Palestine. The official award ceremony will take place at UNESCO headquarters in Paris on May 24.
Awarded every two years, Melina Mercouri International Prize is awarded for safeguarding and management of cultural landscapes. Garni is a pagan temple complex located in the Kotayk region of Armenia dating back to 1st century BC.
The nomination papers had been prepared by the Historical and Cultural Monument Protection Agency of the Ministry of Culture and the Armenian National Committee for UNESCO.
The award is named after famous Greek actress Melina Mercouri, who has also served as Minister of Culture of Greece.