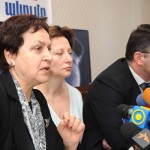 YEREVAN — Parliament deputies from the opposition Zharangutyun (Heritage) party said on Friday that they will take legal action against the Armenian police for using force against them during a protest outside the main government building in Yerevan.
The deputies joined about two dozen ordinary people on Thursday in protesting against a controversial ban on street trade imposed by Yerevan Mayor Karen Karapetian recently. Riot police pushed the protesters away from the building, threatening and verbally abusing some of them in the process.
Prime Minister Tigran Sarkisian received two Zharangutyun lawmakers shortly after the incident. He ordered the police to conduct an internal inquiry into the incident.
A police spokesman told RFE/RL's Armenian on Friday that police officers who clashed with the tiny crowd have been cleared of any wrongdoing.
A police statement issued the previous evening also defended their actions, saying that the protesters disrupted "public order" and ignored "legitimate police demands." The statement also claimed that demonstrations held outside the prime minister's office "impede the normal work of Armenia's government."
One of the Zharangutyun deputies, Armen Martirosian insisted that small demonstrations outside the prime minister's office are legal and again accused the police of breaking the law. He said Zharangutyun will file a lawsuit against the senior police officers responsible for the use of force.
Anorther Heritage lawmaker Larisa Alaverdian stated that "the Armenian Police are not aware that times have changed, and that the Soviet totalitarian regime has passed, and now police have quite different obligations."
The clashes elicited a wide public response. Half an hour after the clashes video materials and photos of the events appeared on social networks (Facebook) and the video-sharing website YouTube.
Every Thursday, when a weekly government session takes place, people with different types of social discontent, gather in front of the government building to make the executive body hear their voice. Those people who were deprived of open-air trade were among the protestors this Thursday.