Another Armenian Soldier Killed by Azeri Snipers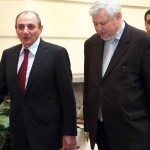 YEREVAN — Armenia and Nagorno-Karabakh rejected on Friday a top OSCE representative's proposal to unilaterally withdrawal snipers from their volatile "line of contact" with Azerbaijan.
The U.S., Russian and French mediators co-chairing the OSCE Minsk Group have repeatedly called for sniper withdrawal by both conflicting parties, saying that would help prevent deadly skirmishes in the conflict zone. The troika reaffirmed the call after ending another round of regional shuttle diplomacy late on Thursday.
The Armenian and Karabakh governmentS have backed the idea, while official Baku has spoken out against it.
Lithuania's Foreign Minister Audronius Azubalis, whose country currently holds the OSCE's rotating presidency, discussed the matter with Armenian and Karabakh leaders during a Friday visit to Yerevan. Speaking at a joint news conference with his Armenian counterpart Edward Nalbandian, Azubalis suggested that the Armenian side unilaterally pull back its snipers from the frontline as a gesture of goodwill.
Nalbandian sounded cool towards the proposal. He stressed that both Armenia and the Nagorno-Karabakh Republic (NKR) continue to support a mutual sniper withdrawal.
The idea was rejected by Bako Sahakian, the NKR president who held separate talks with Azubalis in Yerevan. "Such proposals can be put into practice only when the parties display a constructive approach," he told journalists. "We have grounds to state that during all these years Azerbaijan has repeatedly breached agreements and in this situation we can't afford to unilaterally accept Mr. Azubalis's proposals."
Sahakian pointed to the death of yet another Karabakh Armenian soldier on Thursday evening. The 18-year-old conscript, Aharon Hayrapetian, was shot dead at a frontline section east of the disputed territory.
Hayrapetian is the second Armenian soldier reportedly killed by Azerbaijani forces since the March 5 meeting of the Armenian and Azerbaijani presidents that was hosted by their Russian counterpart, Dmitry Medvedev. In a joint statement with Medvedev, the presidents agreed to strengthen the ceasefire regime and investigate truce violations jointly with the OSCE.