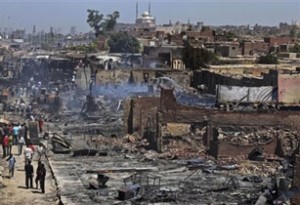 CAIRO — Three shops owned by Armenians in Cairo have been looted during the violent protests that have left at least 300 dead and hundreds wounded.
"Three shops have been robbed due to an unexpected looter attack, but there are no injuries," an Armenian website called Armaveni quoted the head of the Armenian Diocese in Egypt, Bishop Ashot Mnatsakanyan, as saying.
Mnatsakanyan also said that none of the Armenians took part in the protests, adding that though the representatives of the Armenian community are concerned about what is happening in the country.
Further, he said that some Armenian nationals currently in Egypt, as well the Egyptian-Armenians want to come to Armenia and have therefore turned to Armenia's embassy in Cairo to arrange their return, if they finally decide to do so.
"People are horrified and they have the right to leave the country, as every second they are hearing mutually exclusive news, though presently the situation is more controlled than it used to be a few days before," Mnatsakanyan said.
Protests in Egypt erupted last week, following the revolt in Tunisia.
Egyptian President Hosni Mubarak has said he is "fed up with" power and would not run for the next turn.
Though the demonstrators demanded that the president step down immediately, he has said he will not leave Egypt "in chaos".
World powers have urged the Egyptian authorities to organize a peaceful transition of powers.