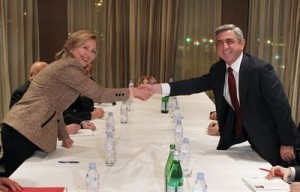 MUNICH — Armenia's President Serzh Sarkisian held a meeting with US Secretary of State Hillary Clinton on February 5 on the sidelines of the Security Summit held in Munich, Germany.
Sarkisian highlighted the importance of the role US plays in the settlement of the Nagorno-Karabakh conflict, as well as in maintaining peace and security in the region.
He also thanked Clinton for the "clear-cut and balanced" approach the US had over the Karabakh conflict at the OSCE Summit in Astana last year.
Clinton, in turn, said she had good memories of her visit to Armenia last year and thanked Sarkisian for the warm reception during that visit.
Speaking about the Armenia-Turkey normalization, Clinton said the US is committed in helping the two countries to continue the process of establishing relations.
Sarkisian and Clinton also discussed the further development of bilateral ties between the US and Armenia, as well as issues related to expanding the relations between the two countries.
The parties also referred to the current phase of the Karabakh conflict, as well as to issues referring to the process of the reforms being made in Armenia.