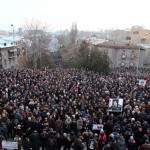 YEREVAN — Opposition leader Levon Ter-Petrosian warned Armenia's leadership to hold fresh elections or face the kind of unrest that has rocked Arab states as he held his largest rally since the bloody suppression of his 2008 post-election protests in Yerevan on Friday.
His Armenian National Congress (HAK) alliance, meanwhile, told supporters to get ready for "very serious events."
Addressing thousands of people who gathered in the city center, Ter-Petrosian drew parallels between the situations in Armenia and several Arab nations that have seen massive anti-government protests in recent weeks. He compared President Serzh Sarkisian with the deposed rulers of Egypt and Tunisia.
"The plight of our people is no better than the plight of the peoples of those countries, and Armenia's regime is no less dictatorial and hated than the regimes in those countries," he told the crowd before it marched through downtown Yerevan.
"Unless the authorities draw the right conclusions from those telling events, the same will happen in Armenia sooner or later, and the full responsibility for that will fall upon Serzh Sarkisian and the kleptocratic regime led by him," Ter-Petrosian claimed. "The only way to avoid undesirable developments is pre-term parliamentary and presidential elections."
Eduard Sharmazanov said on January 31. "Both [Egypt's deposed President Hosni] Mubarak and [Tunisia's] Ben Ali also thought so," scoffed Ter-Petrosian.
"Social unrest becomes visible only after erupting," he said. "Accordingly, the day of a social explosion is as hidden and unexpected as Judgment Day. And Serzh Sarkisian's 'Mubarakization' is just a matter of time."
The HAK leader pointed to ongoing small anti-government protests in Yerevan and other parts of the country against a series of unpopular government decisions that affected some sections of the population such as car owners, street vendors and market traders. He urged them to "politicize" their campaigns and join the HAK in fighting for leadership change in Armenia.
Ter-Petrosian and other speakers at the rally did not say whether the opposition bloc plans to launch a fresh campaign of non-stop anti-government demonstrations. Levon Zurabian, the HAK's central office coordinator, said only that the bloc will hold its next rally on March 1, on the third anniversary of deadly clashes between Ter-Petrosian supporters and security forces which left ten people dead.
"Please spread this information among the people and get ready for very serious events," Zurabian told the demonstrators. He did not elaborate.
Zurabian indicated earlier this week that the HAK's further actions will depend in large measure on attendance of its rallies, which steadily declined in 2009 and 2010.
Friday's protest was clearly the largest since March 2008. In Zurabian's words, the March 1 rally will be "much more powerful."
In his speech, Ter-Petrosian said that the HAK is still "constrained" by the unresolved Nagorno-Karabakh conflict and the persisting threat of an Azerbaijani military offensive against Armenia and Karabakh. "But the authorities can't endlessly exploit the Karabakh issue and subordinate the resolution of Armenia's internal problems to it," he warned..