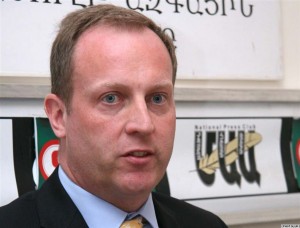 YEREVAN — Britain's ambassador to Armenia called for the unconditional normalization of Turkish-Armenian relations on Thursday, saying that is also important for the success of Turkey's bid to join the European Union.
"Turkey's own accession process and its discussions with the EU does certainly envisage resolution, improvement of its relations with its neighbors, including Armenia," Charles Lonsdale told a news conference in Yerevan.
Lonsdale, whose government strongly backs Turkish membership in the EU, reaffirmed Britain's support for the implementation of Turkish-Armenian agreements to establish diplomatic relations and open the border between the two neighboring states.
"Relations between Armenia and Turkey should be normalized on the basis of the agreements that were reached a year or so ago and without preconditions," he said. "And clearly, a closed border in Europe is an anomalous situation in the 21st century."
"So we continue to work towards resolving that in every way we can, both bilaterally and with partners," added the ambassador.
The Turkish government makes parliamentary ratification of those agreements, signed in October 2009, conditional on the resolution of the Armenian-Azerbaijani conflict over Nagorno-Karabakh.
This stance led Armenia to freeze the process of their ratification by its parliament in April. President Serzh Sarkisian said this week that the Turkish preconditions have "destroyed" the normalization process that began in 2008.
According to Lonsdale, Britain still hopes that the agreements may be put into practice at some point in the future. "We continue to encourage both sides, including Turkey, to move forward to normalize without preconditions," he said.
Lonsdale also stressed the importance of growing contacts between Armenian and Turkish civil society figures. He said they will foster better relations between the two governments.
The British government has financed some of those contacts.