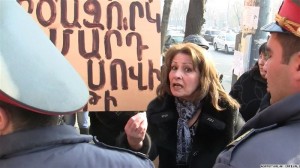 YEREVAN — More than a hundred angry civil servants, many of them members of the ruling Republican Party of Armenia (HHK), rallied in Yerevan on Monday to protest against the government's decision to liquidate a division of the State Social Security Service employing them.
The government made the decision last month as part of a plan to streamline the agency subordinated to the Ministry of Labor and Social Affairs. Under that plan, elderly Armenians will have pensions transferred to their bank accounts or receive them directly from post office workers starting from next month.
Pensions have until now been delivered and paid to them by 300 or so employees of the State Social Security Service division to be disbanded by the end of this month.
The service employees denounced the decision as unjustified as they walked to the presidential palace and then the main government building in Yerevan. They handed officials letters demanding that the government at least delay the dissolution.
"I am now my family's only breadwinner," one woman told RFE/RL's Armenian service. "One of my family members is disabled, and we live in a rented apartment."
"We want to keep our jobs and continue to meet the minimum needs of our families," said another protester.
The demonstrators said both they and the other laid-off workers were forced to join the HHK ahead of the disputed February 2008 presidential election that was won by the party's leader, Serzh Sarkisian, amid opposition allegations of massive fraud.
"They made sure that all 300 employees became Republican Party members on a single day," one woman told RFE/RL's . "Today they don't need these 300 persons in the Republican Party and so they are kicking them out."
"They were forcing us to bring votes for the party," claimed one of her colleagues. "Or else, we would not have kept our jobs. Now they have kicked us out in one fell swoop."
Some protesters angrily brandished HHK membership cards. "We don't need that party," said one of them. "We are going to hand these back to them, as a New Year gift."
The government decided to restructure the pension agency one month before dismissing its head, Vazgen Khachikian. The latter is a senior member of the ruling party.