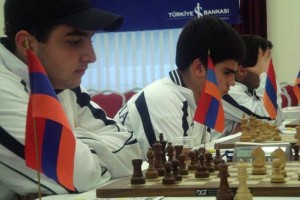 Armenian Youth Team earned the title of World Chess Olympiad in Turkey. In the penultimate round the Armenian chess players defeated the Syrians with a score of 3-1 and by gaining 28.5, leaving Russia out of reach.
Armenia's U-16 team of Karen Grigoryan, Robert Agasaryan, Hovhannes Ghabuzyan, David Shainyan and Tigran Petrosian became champions under coach Arsen Yeghiazaryan's guidance kept their perfect record of nine wins in as many matches by beating Syria (3-1), Uzbekistan (3-1), Turkmenistan-A (2.5-1.5), Turkmenistan-B (4-0), Russia (3-1), Portugal (4-0), Belarus (2.5-1.5), India (3-1), and Turkey-Red (3.5-0.5)..
This is the second time Armenia has become the champion of the World Youth Games. In 1998, the Armenian national team, Levon Aronian, Gabriel Sargsyan, Tigran Petrosyan and Varuzhan Hakobyan, won the gold as well.
Tomorrow, December 4, in the last 10th round of the Olympics, Armenia's rival will be Turkey's second team.