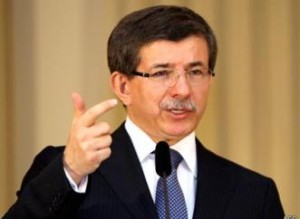 KONYA, TURKEY — Turkish FM Ahmet Davutoglu participated in a convention of the regional chapter of the Justice and Development Party in Konya. He spoke of the possibility of the U.S. Congress putting the Armenian Genocide resolution on its agenda.
Dikkathaber reports that Minister Davutoglu confirmed his telephone conversation with U.S. Secretary of State Hillary Clinton. He asked her to exert every effort to prevent voting on Armenian Resolution HR252. Specifically, the Turkish FM warned the U.S. Secretary of State that the Armenian resolution will cause a serious damage to U.S.-Turkey relations. Clinton assured the Turkish FM that she would do her best to prevent such developments.
"We are aware of a potential House Resolution 252, and we strongly oppose that resolution. We continue to believe that the best way for Turkey and Armenia to address their shared past is through their efforts to normalize relations," US State Department Spokesman Philip Crowley said in a press briefing Friday
As to Turkey's reaction in case the U.S. Congress passes the resolution, Davutoglu said that the world will then see Turkey's reaction. He expressed hope it will not happen.
On December 17, leaders of Democratic Party had been discussing possible vote with the lawmakers, AP reported quoting House aides, speaking on condition of anonymity because they were not authorized to comment. A spokesman for Speaker Nancy Pelosi had no immediate comment.
The vote would be a blow to President Barack Obama by his Democratic allies. House Democratic leaders had long set aside consideration of the draft resolution, and the measure was expected to expire as a new Republican-led House takes office next month.
The issue is awkward for Obama, who pledged as a presidential candidate to recognize the Armenian deaths as genocide. The administration reversed course, as Secretary of State Hillary Rodham Clinton acknowledged Thursday.
The Turkish government and its allies have begun ramping up their lobbying as it became clear that a vote might be in the works shortly before Democrats hand over leadership of the House to the Republicans.
"We are very concerned that there is a backroom deal going on led by the Democratic leadership to sneak the Armenian resolution through in the final hours of the 111th Congress," said G. Lincoln McCurdy, president of the Turkish Coalition of America.