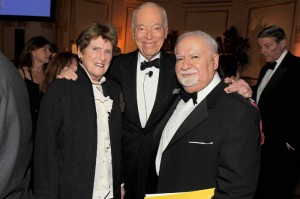 NEW YORK — The Aspen Institute has awarded its 2010 Henry Crown Leadership Award to Vartan Gregorian, President of Carnegie Corporation of New York. The honors was presented at the Aspen Institute's Annual Awards Dinner at New York City's Plaza Hotel, on November 4, 2010.
The Award honors outstanding leaders whose achievements reflect the high standards of honor, integrity, industry, and philanthropy that characterized the life and career of Henry Crown, a well-known business leader and philanthropist. The Award is presented annually by the Henry and Gladys Crown Charitable Trust Fund in cooperation with the Henry Crown Fellowship Program of the Aspen Institute.
"It is such a profound privilege for those of us at the Aspen Institute to bestow its Henry Crown Leadership Award on Vartan Gregorian. There is no one more deserving of this recognition honoring the attributes of integrity, industry and philanthropy," said Aspen Institute President Walter Isaacson. He added: "This special man has left an indelible mark on many of our great institutions and the countless people touched by them—from his years at the University of Pennsylvania, the New York Public Library, then at Brown University and now the Carnegie Corporation. Teacher, scholar, philanthropist, humanist, Vartan Gregorian has made our world a better place."
Leonard Lauder, recipient of this year's Aspen Corporate Leadership Award, said, "Throughout his career, Vartan Gregorian has brought passion, energy and scope to everything he touches. From his legendary success at the New York Public Library, to his humanitarian work at Carnegie, to his commitment to quality education for all, I can think of no one better to receive the honor of the Henry Crown Award than Vartan. His leadership and outstanding achievements are legendary."
Commenting on his selection as the 2010 recipient of the Henry Crown Award, Vartan Gregorian said, "Henry Crown was a paragon of integrity, dignity, and leadership. It is a great honor for me to receive this award because it gives me the occasion to celebrate the life of this extraordinary man whose legendary career was built on a foundation of trust and respect. In business as in life, his word was his bond and his promises were always kept. He believed that success in business must be matched by generosity and public service. Through his philanthropy and dedication to advancing his community and society, he set a lasting example for us all. "
Following the awards ceremony, Dr. Gregorian and Mr. Lauder discussed the nature of leadership and the lessons each has learned over the course of their respective careers in a conversation moderated by Christiane Amanpour, anchor of ABC News's This Week.

The 27th Annual Awards Dinner Part 1