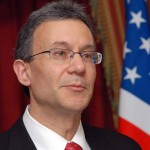 US is interested in the construction of the new nuclear power plant in Armenia, Coordinator of US Assistance to Europe and Eurasia at the US State Department Daniel Rosenblum said at a joint press conference with Armenia's Ministry of Economy Nerses Yeritsian during a regular meeting in Yerevan of the U.S.-Armenia Joint Economic Task Force (USATF), which he co-chairs with Armenia's Economy Minister.
"We are interested in having U.S. companies participate [in the nuclear project,] if possible," Rosenblum told a news conference after the meeting. "We did discuss it today at the session, although it's one among many energy-related issues that were on the agenda."
The Armenian government plans to close the Soviet-built nuclear plant at Metsamor, which generates about 40 percent of the country's electricity, and build a new, modern facility in its place in the coming years. Chances for the implementation of the extremely ambitious projects increased in late August with the signing of a Russian-Armenian agreement on "technical and financial cooperation" over the plant's construction.
Russian energy officials said Moscow could provide up to one-fifth of an estimated $5 billion in investments needed for the new plant. Yerevan has yet to secure other sources of funding.
The Russian and Armenian governments already set up late last year a joint venture tasked with building the plant's reactor. Armenian officials said other plant facilities might well be built by or receive equipment from Western nuclear energy firms. According to them, equipment suppliers will be chosen in international tenders.
"We have worked for many years very closely with the Armenian government, with the nuclear industry here on the safe use of nuclear power and also on issues concerning proliferation of nuclear materials, and we will continue that joint work with the government," said Rosenblum. "But at the same time when there are private sector opportunities, we would like to promote them."
The U.S. government already allocated in late 2007 $2 million for a feasibility study on the project. "We look forward to the rapid replacement of the Metsamor facility with a more modern and safer plant," a senior U.S. diplomat in Yerevan said at the time.
The U.S. as well as the European Union have spent much larger sums on wide-ranging safety measures at the Metsamor plant since its reactivation in 1995. The plant was due to be decommissioned by 2017.
However, Ashot Martirosian, the head of Armenia's State Committee on Nuclear Safety, told RFE/RL in August that the shutdown is likely to be delayed by several years because the new plant's construction will last longer than was anticipated by the government.
The Armenian Economy Ministry and the U.S. Embassy in Yerevan made no mention of the nuclear project in separate statements on the USATF meeting. They said the meeting focused on ways of improving Armenia's problematic business environment.