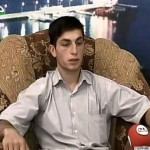 The U.S., Russian and French diplomats seeking to broker a solution to the Nagorno-Karabakh conflict called on Monday for international involvement in what they said should be a thorough inquiry into the death of an Armenian captive in Azerbaijan.
The man, Manvel Saribekian, was found hanged in his prison cell last week nearly a month after being captured by Azerbaijani troops in disputed circumstances. While pledging to investigate the death, the Azerbaijani authorities claimed that the 20-year-old "saboteur" committed suicide and had no traces of violence on his body.
Armenian officials dismissed these claims, saying that he was tortured to death or "driven to suicide." They also insist that Saribekian was a civilian resident of an Armenian border village who accidentally strayed into Azerbaijani territory.
Igor Popov, the Russian co-chair of the OSCE Minsk Group, offered his and the two other mediators' condolences to the victim's family. "We believe that this incident must be investigated in the most meticulous way and that relevant international organizations, notably the International Committee of the Red Cross, must be involved in that process," he told journalists in Stepanakert.