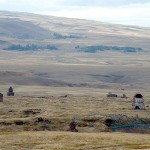 Armenian city of Ani presently located in Turkey is included in the list of historic sites on the verge of vanishing.
California-based Global Heritage Fund (GHF) named Ani among twelve historic sites around the world that are endangered.
The two-page Saving Our Vanishing Heritage report mentions that Ani is "a unique monument of the great Armenian civilization."
"The main and most impressive building in the ruined ensemble, Ani Cathedral, was built in 1001 and laid the foundation for the region's famous gothic style, which a century later was widely used all over Europe. Today, Ani reminds us not only of a once strong and powerful Armenian empire, it also symbolizes the beginning of an architectural style that later inspired the look of medieval Europe.
Ani has been "caught in a political morass," because of its position on the border of Turkey and Armenia, two countries that don't have diplomatic relations, said GHF executive director Jeff Morgan, arguing that restoring these heritage sites will attract tourism that can pay for their ongoing preservation and bring sustainable income to local communities.
"That's why what's happening now is so critical — because of scarcity. There are so few intact ruins and historic districts left," Morganstated to CNN.
Ani has suffered through several ill-fated attempts at reconstruction, which were organized and conducted unprofessionally with many crucial mistakes that led to further deterioration of the monuments. Urgent measures need to be implemented now in order to stop the ruining of city ensembles like Ani's, and to begin proper conservation work," the report says.