LONDON — Armenia and the United Kingdom launched a "strategic dialogue" between their two countries as Armenian Foreign Minister Ararat Mirzoyan began his two-day official visit to London on Monday.
According to the Armenian Ministry of Foreign Affairs, the Armenia-UK strategic dialogue was launched with a meeting between Mirzoyan and British Minister for Europe Leo Docherty held the same day.
The meeting reportedly began with a private conversation and later continued in an extended format with the participation of delegations from both countries.
"The sides emphasized that the activation of the high-level political dialogue between the Republic of Armenia and the UK recently, the start of the strategic dialogue testify to the willingness of the parties to qualitatively raise the Armenia-UK partnership to a new level and to the efforts invested in that direction," the Armenian ministry's report said.
It said discussions during the meeting were held around the entire agenda of bilateral relations between the two nations.
"The parties thoroughly discussed security and stability issues in the South Caucasus, the process of normalization of relations between Armenia and Azerbaijan. Foreign Minister Mirzoyan underscored the significance of moving forward in the peace process based on the principles outlined in the statement adopted after the quadrilateral meeting in Granada in October," the report said.
The Armenian foreign minister was quoted as emphasizing the importance of "public commitments from Azerbaijan as well as active engagement by international partners in this issue."
Minister Mirzoyan also reportedly presented the "Crossroads of Peace" project developed by Armenia, highlighting the expected advantages resulting from its implementation.
According to the report, the displacement of more than 100,000 ethnic Armenians from Nagorno-Karabakh "due to ethnic cleansing by Azerbaijan" was also raised at the meeting and the sides "addressed steps being taken to meet the primary needs and rights of the Nagorno-Karabakh people."
Opening of New Embassy of Armenia in London
The meeting between Mirzoyan and Docherty followed an official ceremony of the opening of a new embassy of Armenia in London. Speaking at the ceremony, the Armenian foreign minister called it a "historic moment."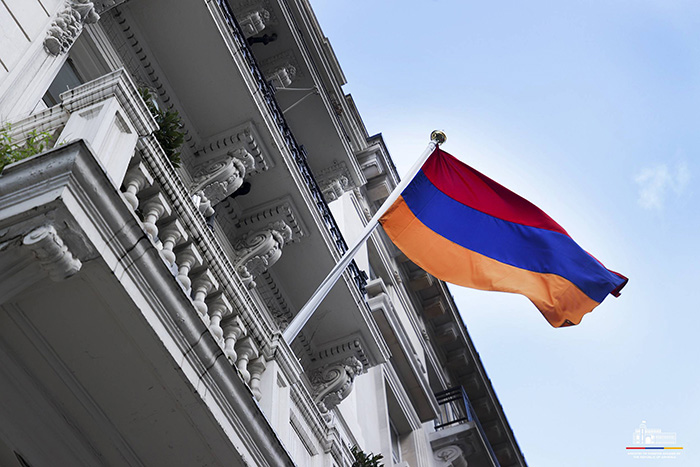 "We not only open a building, but lay new foundations for deepening our relations. We are reaffirming our commitments to deepen our political dialogue, our economic ties, our cultural ties," Mirzoyan said, stressing that the opening of the new embassy building coincided with the launch of the Armenia-UK strategic dialogue.