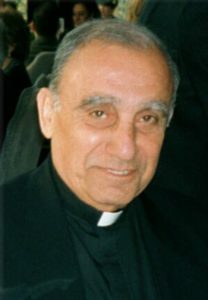 Reverend Father Carnig A. Hallajian, age 90, passed into eternal rest on June 13. Born in Aleppo, Syria, with the baptismal name Antranig, he received his elementary education at Aleppo's Giligian School. In 1944 he entered the seminary of the St. James Armenian Patriarchate of Jerusalem. Due to the outbreak of the Arab-Israeli war, he returned to Aleppo (1948) where he taught for six years in various Armenian schools. By 1954 he enrolled in a special program for the preparation priests at the Holy See of Cilicia in Antelias, Lebanon. In 1956 he arrived in the United States at the invitation of Archbishop Mampre Calfayan, Primate of the Eastern Diocese of the Armenian Church of America to continue his education at the General Theological Seminary in NYC.
Beginning in 1958, Fr. Carnig began serving the St. Leon Armenian Church of Paterson, NJ as "deacon in charge." In July 1960, Deacon Antranig married Rose Norian and subsequently received his ordination into the holy priesthood. He continued as pastor through the relocation of the parish to Fair Lawn, NJ in 1965 when the new church edifice was constructed on Saddle River Road. From 1972-1977, he served as pastor of the Church of the Holy Martyrs in Bayside, NY. During his pastorate, the parish's kindergarten was transformed into a Day School. In 1977, Father Carnig accepted assignment as Pastor of Holy Cross Armenian Church, Union City, NJ.
His ministry led him through green pastures as well as valleys of sorrow and in 1984 he lost his beloved wife to cancer. After a 2-year leave of absence, he returned to his pastoral duties at the Holy Cross Church, an office that he held until 1994 when he retired. In retirement, he served as a visiting priest to various parishes. Fr. Carnig served as editor of "Haiastanyaitz Yegeghetsi," the Armenian language journal of the Eastern Diocese. He was a member of the Diocesan Council and on the Board of Directors of St. Nersess Seminary, Armonk, NY.
Seeing the acute need for preparing young men for priesthood following the collapse of the Soviet Union in 1991, Father Carnig spearheaded the recruitment of benefactors to support the renewal of the Vaskenian Theological Seminary at Lake Sevan in Armenia which today enjoys a thriving body of future priests for the young republic. The "Friends of Holy Etchmiadzin" is the result of his efforts which focuses on the needs of the Armenian Apostolic Church. Father Carnig is survived by his devoted wife of later years, having married Arpena Tavitian in 1999, and his niece and nephews.