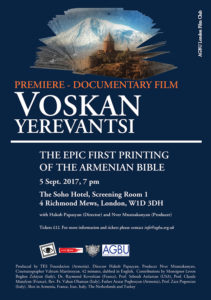 LONDON — Thousands of Armenian manuscripts were written prior to the 15th century, when Gutenberg's invention of the printing-press provided a technological breakthrough for the future progress of mankind. Armenians at that time were not free, but they were able to harness the new technology to print books thousands of miles away in Europe. In 1512, Hakob Meghabard set up the first Armenian press in Venice. Half a century later, Abgar Dbir, who came to Rome to seek support for the liberation of his homeland, developed the notion of "book – homeland" – a national identity sustained through print. Printing became a means of Armenian national rejuvenation.
The film, Voskan Yerevantsi, is about this epic struggle to produce Armenian books in the 16th-17th centuries. The central character of the film is Voskan Yerevantsi, who became the first Armenian publisher of the Bible. He set on his mission at Saint Sarkis Monastery of Ushi in Aragats (in present-day Armenia) and ended up in Rome, Amsterdam and Marseilles.
One of the results of these endeveavours was the spread of Armenian presses into Ottoman Turkey and Persia, predating those of Turks and Persians.
The printing of the Bible in Armenian, between 1666 and 1668, raised the standing of Armenians to that of other powerful nations in the world. A magnificent illustrated copy of the book was sent as a gift to the Sun King, Louis XIV of France.
DETAILS: Voskan Yerevantsi will premiere at The Soho Hotel, Screening Room 1, London, W1D 3DH, 5 Sept. 2017. For tickets please contact [email protected]