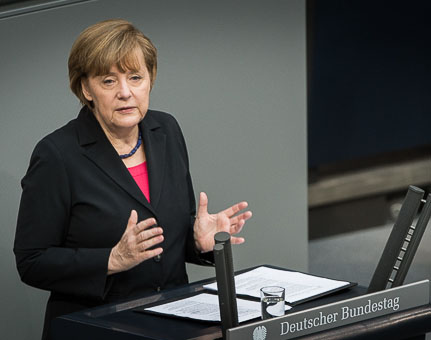 BERLIN (Reuters) – German Chancellor Angela Merkel told the parliamentary leader of her conservative party that she is not distancing herself from a Bundestag resolution recognizing the 1915 massacre of Armenians by Ottoman forces as Genocide, that has strained ties with Turkey, according to sources briefed on the matter.
Volker Kauder, the head of the Christian Democrats in parliament, told a meeting of party members that he had spoken with Merkel and she emphasized her position, said the sources, who attended the meeting.
Kauder said Merkel also noted that she had voted to support the Genocide resolution during a party meeting before the vote, although she was not present when the vote took place in June. Economy Minister Sigmar Gabriel and Foreign Minister Frank-Walter Steinmeier were also not present, the sources said.
Earlier a German government spokesman denied claims made in a news report that Berlin was going to tone down the resolution, pointing out, however, that it is not legally binding, Deutsche Welle reports.
The German news magazine "Der Spiegel" had reported on Friday that Berlin planned a gesture to appease Turkish government anger over the Bundestag's Armenia resolution. That report, however, was denied by German government spokesman Steffen Seibert.
"There can be no talk of the German government distancing itself from the Armenia resolution," Steffen Seibert told reporters at the regular news conference.
The report in "Der Spiegel" said Chancellor Angela Merkel's government hoped to resolve a dispute that has seen German parliamentarians barred from visiting Bundeswehr troops stationed at the Incirlik airbase in eastern Turkey.
According to AFP, Foreign Minister Frank-Walter Steinmeier also said Friday, when asked about the Spiegel report, that the German parliament "has the right and freedom to comment on political issues but, as the parliament says itself, not every resolution is legally binding".
Steinmeier said there had been "many areas of friction, not just since the coup attempt", and again urged Turkey to respect the rule of law in its treatment of the tens of thousands of detainees.
The minister also said that "of course it is the task of diplomats to reduce these areas of friction and to search for ways to maintain relations with Turkey and to provide a future perspective for them".
"In recent talks we got the impression that this is an interest also shared by Turkey."
Ankara banned German lawmakers from visiting 250 German soldiers stationed at Incirlik Air Base in Turkey in response to the Bundestag resolution. German officials have said the resolution is not legally binding and that the lawmakers must be allowed to visit the base.
Matthias Schaefer, spokesman for the German Foreign Ministry, said Turkish and German officials remained in talks about the issue. He said it remained to be seen how Turkish officials responded to requests from lawmakers to travel to Incirlik in October.