WASHINGTON, D.C. – As the 2016 Republican Convention convenes in Cleveland, Ohio next week, the Armenian Assembly of America (Assembly) embarked on an Armenian Genocide billboard campaign prominently displaying the statement of President Ronald Reagan affirming the Armenian Genocide.
With nearly 50,000 people expected at the Convention in Cleveland, the billboards are part of the Assembly's ongoing public awareness initiative. They serve as a reminder about the need to affirm the truth and learn from the past so as to prevent future genocides.
During his first term in office, President Reagan issued a proclamation which read in part: "Like the genocide of the Armenians before it, and the genocide of the Cambodians which followed it – and like too many other such persecutions of too many other peoples – the lessons of the Holocaust must never be forgotten."
The first two billboards, located on I-77 northbound near Grant Avenue (close to where the Convention will be held) and Carnegie Avenue westbound, features an excerpt from President Ronald Reagan's proclamation on April 22, 1981.
"The Cleveland Armenian community, and, particularly, our parishioners, are overjoyed with respect to the presence of both billboards," Rev. Fr. Hratch Sargsyan, pastor of St. Gregory of Narek Armenian Apostolic Church, said. "The billboards are the talk of the Armenian community. Folks are simply ecstatic."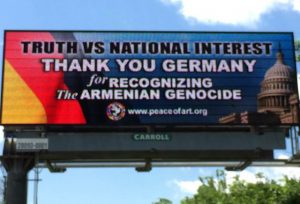 The billboards' media campaign was overseen by the Assembly's Ohio State Chair Ara Bagdasarian, who is also a member of the Cleveland Armenian Genocide Centennial Committee.
"Ronald Reagan, one of the most revered Republican leaders, is the only sitting president to recognize the Armenian Genocide and use the term genocide. With these billboards, we will reiterate Reagan's statement and help ensure that the next president – whether it be Republican or Democrat – reaffirms the Armenian Genocide," Bagdasarian said. "We wanted to take advantage of the opportunity to share our message about the Armenian Genocide with the visitors coming to Cleveland during the Republican Convention. The world's spotlight and media will converge here, and we have the chance to be heard."
Donated by Debbie Abdalian-Thompson, owner of Cleveland Outdoor Advertising, the Assembly put up two of the billboards to commemorate the 101st anniversary of the Armenian Genocide and to promote public awareness during the Convention. A third billboard was added following Germany's affirmation of the Armenian Genocide on June 2. The most recent billboard reads: "Truth vs National Interest" and "Thank You Germany for Recognizing the Armenian Genocide," designed by Peace of Art and located on I-77 southbound near mile marker 157.
"I would also like to give special thanks Debbie Abdalian-Thompson and Cleveland Outdoor Advertising for her generous support," Bagdasarian added.