YEREVAN — Pope Francis ended his three-day pilgrimage of peace to Armenia with a visit to Khor Virap (Deep Pit), an Armenian monastery some twenty miles south of Yerevan near the closed border with Turkey in the Ararat Plain.
Catholicos Karekin II accompanied Pope Francis to the monastery which is built at the site of a dungeon where Gregory the Illuminator, the first Armenian Catholicos, had been imprisoned before convincing King Tiridates III to adopt Christianity as Armenia's state religion.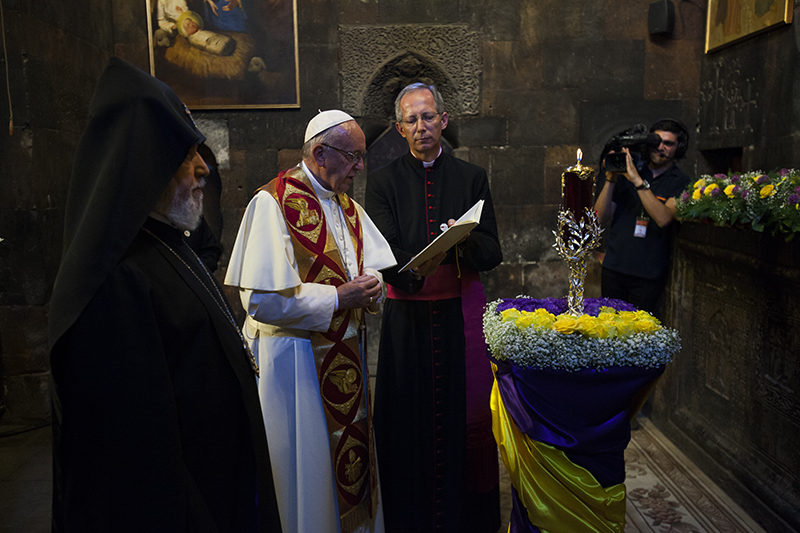 Earlier in the day, Pope Francis and Catholicos Karekin II signed a joint declaration pledging to promote Christian unity around the world by further deepening relations between their ancient churches.
They also expressed concern at the "secularization" of contemporary societies, reaffirmed their opposition to same-sex marriage, condemned the persecution of Christians in the Middle East and urged world powers to end bloody conflicts in and outside the region.
"In this regard we also express our hope for a peaceful resolution of the issues surrounding Nagorno-Karabakh," they said in the statement signed at Garegin's headquarters in Echmiadzin, a small town near Yerevan.
Pope Francis repeatedly paid tribute to Armenia's Christian heritage during the trip that set another milestone in a rapprochement between the Roman Catholic and Armenian churches. The two churches essentially ended their long-standing theological differences with a joint statement issued in 1996. In 2001, John Paull II became the first Pope to have ever visited Armenia.
Pope Francis called for "a unity that must not be the submission of one to the other, or assimilation, but rather the acceptance of all the gifts that God has given to each."
Pope Francis also urged Armenia and Turkey on Saturday to seek reconciliation over the Armenian genocide which took place one century ago, and Armenia and Azerbaijan to find a peaceful resolution to the Nagorno-Karabakh conflict.