BAKU (RFE/RL) — A renowned Azerbaijani novelist who infuriated Azerbaijan's government in 2013 with a book that cast a sympathetic light on Armenians was detained and reportedly barred from leaving the country on Wednesday.
News reports from Baku said that Akram Aylisli was detained at Baku airport early in the morning shortly before he was due to fly to Frankfurt, Germany on his way to an international literary festival in Venice.
Citing his wife Galina, the Turan news agency said an airport passport control officer told Aylisli that Azerbaijani authorities have banned him from travelling abroad. He was then taken into police custody.
The Azerbaijani Interior Ministry confirmed the detention. "Aylisli was detained because of provoking a conflict situation at a passport control desk of the airport," a ministry spokesman said. "The police are now investigating the incident."
According to Turan, the 78-year-old writer was not released from custody as of 7 p.m. local time.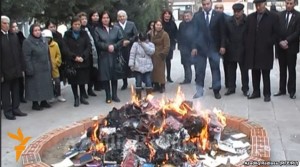 One of Azerbaijan's most famous writers, Aylisli fell out of government favor in 2013 after publishing the controversial novel, "Stone Dreams," in a popular Russian magazine. The novel portrays brutal campaigns by his fellow Azerbaijanis against Armenians — including the notorious January 1990 pogrom in Baku in which Armenians were murdered by the dozens and expelled from the city.
In a February 2013 decree, Azerbaijani President Ilham Aliyev stripped Aylisli of the official title of "People's Writer" as well as a presidentially awarded pension for "distorting facts in Azerbaijani history and insulting the feelings of the Azerbaijani people."
The novel also sparked government-organized demonstrations in Baku, with angry crowds gathering outside Aylisli's apartment block, shouting "Shame!" and setting photos of the author alight. A leader of the ruling Yeni Azerbaycan Party accused the writer of secretly being Armenian, while some Azerbaijani lawmakers called for a DNA test to determine his ethnic origin.
Aylisli dismissed the criticism and accused Azerbaijani officials at the time of exploiting the Nagorno-Karabakh conflict for their own political gain. He defended "Stone Dreams," saying he felt it is his responsibility, as an Azerbaijani, to acknowledge his country's role in the conflict.
The novel was translated into Armenian and printed in Armenia by a private publisher later in 2013.