MOSCOW — Russia and Armenia have signed an agreement on establishing the Combined Regional Air Defense System in the Caucasian Collective Security Region on Wednesday, TASS reports.
Defense Minister Seyran Ohanian and his Russian counterpart Sergey Shoygu signed the agreement after talks held in Moscow. Russian President Vladimir Putin authorized his government to sign the deal in October.
The Russian and Armenian militaries have been jointly protecting Armenia's airspace ever since the mid-1990s. Their integrated air defense system was given a "regional" status by the Russian-led Collective Security Treaty Organization (CSTO) in 2007.
Ohanian thanked Russia for its "huge" military assistance to Armenia. A statement by the Russian Defense Ministry quoted Ohanian as telling Shoygu: "I want to thank you for the huge assistance which you have provided in terms of military-technical cooperation and supplies of military items. They are very important to us."
"I must say that thanks to your efforts and efforts by Russian military officials — our friends — 2015 has been a special year," said Ohanian.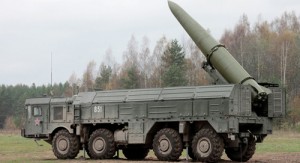 "We have approved for 2016 a plan of work of the Defense Ministers' Council of the CIS countries and a plan of common steps on the joint air defense system," Shoigu said summing up the results of the meeting.
According to the statement, Russia and Armenia have fully implemented a 2015 plan of bilateral military cooperation. He said it included the conduct of joint military exercises and an "additional enrollment" of Armenian cadets and officers in Russian military academies.
The Russian military have been training Armenian officers to operate S-300 anti-aircraft systems. In June 2015, the Russian government provided Yerevan with a $200 million loan that will be spent on the purchase of more Russian-made weapons for Armenia's armed forces.
Shortly afterwards, a Russian official revealed that the two sides are negotiating on the delivery of advanced Russian Iskander-M missiles to the Armenian army. With a firing range of up to 500 kilometers, the Iskander-M systems would protect both Armenia and Nagorno-Karabakh air spaces.