YEREVAN (RFE/RL) — The Armenian police on Monday threatened to dismantle a barricade built by protesters on Baghramian avenue after again refraining from using force to end their nonstop demonstration against controversial electricity price rises.
The barricade consisting of big trash containers was built a week ago after riot police broke up a protest taking place there. The containers belong to Sanitek, a private company in charge of garbage collection in Yerevan's central administrative district.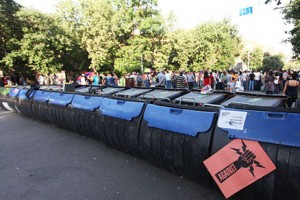 A police colonel, Arsen Ayvazian, approached several hundred protesters remaining on the blocked street section in the morning to inform them that the police have launched criminal proceedings in connection with a complaint lodged by Sanitek. He said the investigation is being conducted under articles of the Armenian Criminal Code dealing with destruction of or damage caused to private property.
Ayvazian added that the police therefore intend to confiscate the trash bins from the protesters and warned the latter against any resistance.
The protesters responded by jumping onto the containers and sitting or lying in front of them. They insisted that the barricade is necessary for preventing a repeat of the June 23 violent crackdown on their campaign for the abolition of a more than 17 percent increase in energy tariffs.
Security forces deployed nearby did not act on Ayvazian's threats in the following hours. Senior police officers threatened to forcibly unblock the street leading to the presidential palace late on Sunday.
Shortly after midnight Prime Minister Hovik Abrahamian issued a statement urging the protesters to leave Marshal Bagramian Avenue and embark on a "dialogue" with the Armenian government. Abrahamian argued that the No To Plunder youth movement, which launched and until now led the campaign, decided to move the protests back to Liberty Square and thus reopen the avenue to traffic.
The No To Plunder leaders were jeered and condemned by many protesters when they announced their decision on Sunday evening. Only several hundred protesters heeded their appeal. Many others accused them of betrayal and said they will stay put until the authorities completely reverse the price hike.
The No To Plunder leaders defended their decision on Monday, saying that it was necessary for preventing bloodshed. They were due to rally remaining supporters in Liberty Square later in the day.
"I was worried that the police forces will take action," said Vaghinak Shushanian, a 24-year-old activist who read out the group's statement on Sunday. Shushanian made clear that the group is no longer responsible for developments on Marshal Bagramian Avenue even if its members continue to participate in them.
"We see our further steps on a different platform," said Sofia Hovsepian, another No To Plunder leader. "Being stuck on Bagramian Avenue and doing nothing is no progress."
Both she and Shushanian also told RFE/RL's Armenian service (Azatutyun.am) that their movement is not satisfied with concessions that were made by President Serzh Sarkisian to the protesters on Saturday. Sarkisian announced that his government will temporarily subsidize the electricity prices at least until an international audit of Armenia's Russian-owned power distribution network.