STEPANAKERT — With generous support from the Armenian Community, the clearance of a minefield in the village of Karegah in Kashatagh region was completed in December and the land was returned to the local community in January. The HALO Trust, partnered with Landmine Free Artsakh to remove the landmines, destroyed 21 anti-personnel mines and 6 other deadly explosive remnants of war to make safe over 4 acres of land. Now the villagers of Karegah can collect firewood and forage for berries and mushrooms without fear of death or serious injury.
In a recent interview Yuri Shahramanian, HALO's Program Manager in Nagorno Karabakh, spoke about the effort to make Nagorno Karabakh safe, the Landmine Free Artsakh campaign, and the clearance of mines in the villages of Norashenik and Karegah.
Since the summer of 2013 Landmine Free Artsakh has been campaigning to raise funds and awareness about the landmines left behind from the 1994 war between Azerbaijan and Artsakh that injure and kill innocent civilians and prevent fertile land from being used. In addition to Karegah these efforts have also helped to make safe the village of Norashenik (also in Kashatagh region) where 12 cluster bombs and 28 other items of unexploded ordnance were destroyed to make safe over 370 acres of land.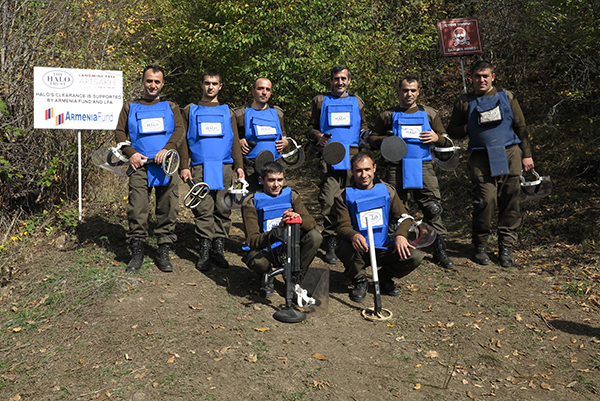 The next project for Landmine Free Artsakh is to raise $100,000 for the clearance of the village of Govshatly in the Northern Hadrut region. The road to the edge of the village is mined, as is one of the upper fields adjoining the road. When the minefield is cleared 709 people from three nearby villages will be able to travel safely and 43 acres of land will be returned to the people of Govshatly for farming.
To help achieve this goal, Landmine Free Artsakh have organized two informational and fundraising events in February to reach new Armenian communities in the United States, as many do not know that every year there are new civilian casualties in Artsakh.
For more information or to make a tax-deductible donation to help the villagers of Govshatly village, please visit http://www.landminefreeartsakh.com or email us at [email protected].